Private

Just between you and your friends.

Messages stay on your device and on your friends' devices. In transit, they're protected by the same technology that protects your bank's web site.

Social

Private doesn't have to mean lonely.

Heartbeat is a beautiful, simple Mac app. It's easy to connect with your friends, chat to them, and share photos, videos, and files.

Web

Talk to the world on your own terms.

Your public posts appear on your own indie web site and are aggregated on Ind.ie.

For example, here's Aral's site.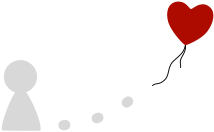 It's early days…
Heartbeat has just hatched. It's currently being incubated in a private pre-alpha. If you're technically savvy, you can grab the source and play with it today. Join us on the forum to keep up with the community and the latest developments.