Europe fights back
4th April, 2015 — Laura Kalbag
Not to be outdone by Jony Ive drawing inspiration from Dieter Rams, Google draws inspiration from Hugo Gernsback.

— Aral Balkan (@aral) April 7, 2015
This week's roundup brings you more on corporate surveillance, a couple of great videos with Edward Snowden, and Europe fighting back against Google and Facebook.
What are those cheeky corporations up to this week?
Continuing our section on "What are those cheeky corporations up to this week?" I've found the shiniest and most scintillating news from our Silicon Valley pals:
Facebook
It's been hard to keep up with horrifying Facebook news this week. There's just so much of it. Last week we learned that Facebook has been tracking its logged out users, and this week they put it down to an incredibly convenient "bug". Facebook is also now being sued for amassing the world's largest stash of biometic face-recognition data, violating the privacy of its users, which violates Illinois law (at the very least).
Príomh Ó hÚigínn has posted an example of how Facebook is sending everything you type to its servers, regardless of whether you pressed the 'Post' button or not. Jennifer Golbeck first drew attention to this on Slate in 2013, focusing on the fact that Facebook doesn't want its users to self-censor as it "loses value from the lack of content generation."
As much as 40% of news site traffic is delivered from Facebook. Talking more about monopolies and the issues of Facebook controlling media channels, Owen Williams on The Next Web considers what could happen if one company controls the internet:
"All of these things are awesome, because we live in a time where it's easier than ever to do everything you want to do, with no friction, in a single place. Unfortunately, it also puts a lot of power in a single place."
Google
And Facebook isn't the only monopoly threatening the future of the web. There are rumours circulating again that Google is attempting to buy Twitter. Owning Twitter would get Google the social media success that it lacks with Google+, and would also cement the monopoly Google has over web services even further.
Whether Google buys Twitter or not, Google is too big to derail. With their new CFO coming straight from the finance industry, Google is becoming like a major investment bank. Of course, the financial industry specialise in "evading government regulation and maintaining a chummy relationship with Washington." The motives are explained in an interesting piece from Jacob Silverman in the Baffler.
Remember when Aral was on Al Jazeera talking about Google's YouTube For Kids app? Well, it's six weeks later, and things aren't going well for Google. Complaints have been filed with the FTC (Federal Trade Commission), cosigned by prominent consumer groups, saying that the app exposes kids to "'hyper-commercialized' environment with basically no safeguards." Their primary argument is that YouTube Kids mixes and matches advertising and programming in a way that "would not be permitted to be shown on broadcast and cable television."
Twitter is aiding Turkey in the censorship of Turkish citizens
In another article in the Baffler, Jacob Silverman explains that Twitter's compliance with the Turkish government is at odds with their so-called reputation for supporting freedom of speech. Twitter was blocked in Turkey briefly on Monday, but restored after Twitter reportedly removed photos as requested by the Turkish government. As Jacob points out, many of these corporations would rather comply with governments than risk their access to that market. It also gives a corporation a powerful bargaining chip when it comes to lobbying the governments in their favour.
Zeynep Tufekci points out that censorship isn't the primary aim of the Turkish President anyway. Instead, Erdoğan's strategy is to demonise social media in his country. "It is a strategy of placing social media outside the sacred sphere, as a disruption of family, as a threat to unity, as an outside blade tearing at the fabric of society." It's a powerful political strategy which makes me wonder if it could undermine the value of corporate surveillance feeding government surveillance in Turkey.
Erdoğan is taking censorship beyond blocking and taking down content, criminalising Turkish citizens who criticise him. A journalist from southeastern Turkey has received a suspended prison sentence for "liking" a post criticising Erdoğan on Facebook, which the court deemed as an "insult."
On the topic of avoiding censorship, we shared a fantastic guide to DIY cybersecurity last week, and another link to keep handy is Matthew Hughes' How to Bypass Web Filtering and Censorship In The UK and Turkey.
Government Surveillance and Edward Snowden
John Oliver interviews Snowden about dick pics
John Oliver and the team at Last Week Tonight have come up with a great concept to help everyday Americans understand the consequences of government surveillance with the website, Can They See My Dick.com. In a feature-length show, John travelled to Russia to get Edward Snowden to explain how each government surveillance programme can get hold of dick pics. (VPN required if outside US, or try the video on Daily Motion.)
As funny as the video is, Glenn Greenwald, points out in his article on The Intercept, that the apathy of the public shown in the video isn't the result of apathy towards surveillance, but instead apathy towards politics in general:
"Contrary to what Oliver says, it's actually not surprising at all that a large number of Americans are unaware of who Snowden is, nor does it say much at all about the surveillance debate. That's because a large number of Americans, by choice, are remarkably unaware of virtually all political matters. The befuddled reactions of the Times Square interviewees when asked about Snowden illustrate little about the specific surveillance issue but a great deal about the full-scale political disengagement of a substantial chunk of the American population."
Snowden on passwords
John Oliver also asked Edward Snowden about how to come up with secure passwords. Easy-to-remember pass phrases with an unusual combination of words are much better than 8 characters or less with a mixture of punctuation, upper and lowercase.
Snowden Bust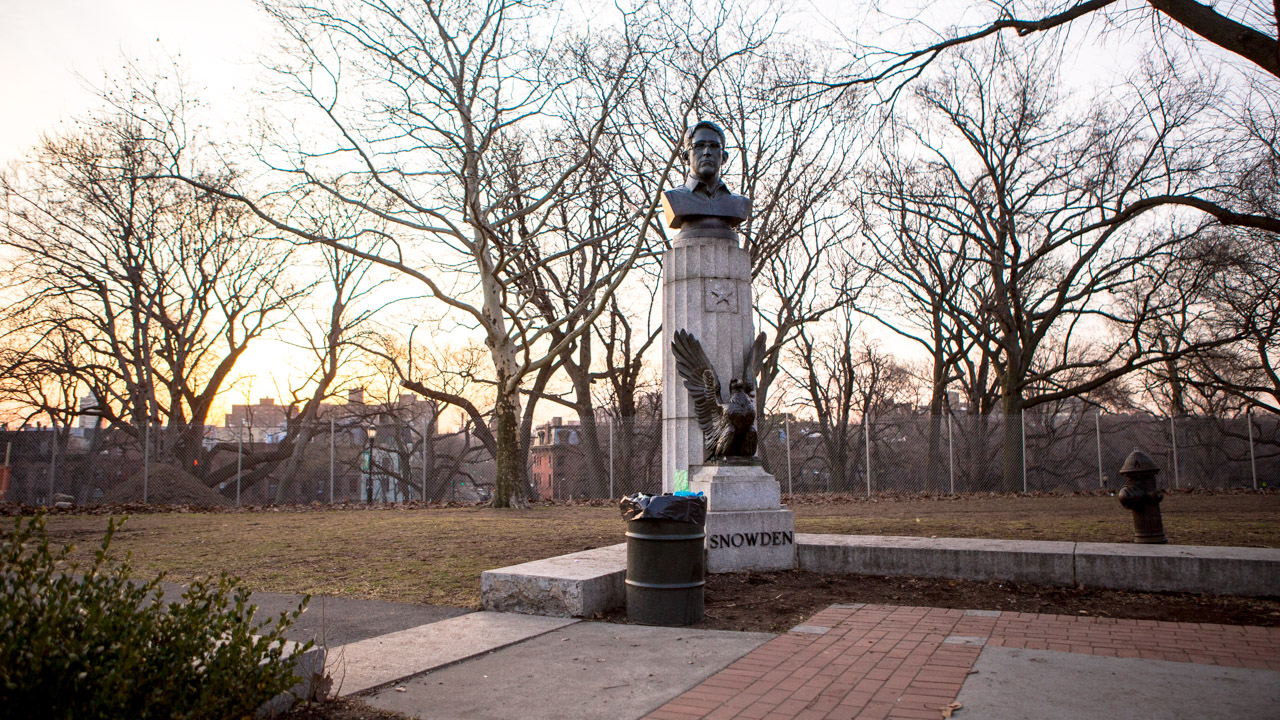 Artists installed a bust of Edward Snowden atop an unused column in a park in Brooklyn. The beautiful sculpture was designed to fit in with others in the area. Before the day was up, the Parks Department had covered the bust with a tarp and then removed it. In a wonderful rebellious feat, a projection group called The Illuminators then filled the empty space with a hologram of Edward Snowden, saying "Our feeling is that while the State may remove any material artifacts that speak in defiance against incumbent authoritarianism, the acts of resistance remain in the public consciousness. And it is in sharing that act of defiance that hope resides."
Europe vs Corporate Surveillance
Legal cases against government and corporate surveillance are starting to pop up in Europe. Julia Powles looks at the importance of privacy, the UK and EU laws which affect privacy, legal precedence and current cases in an in-depth article in the Guardian. Germany has slapped Google with limits on the collection of personal data following an appeal at the German data protection office. The data protection office takes particular issue with Google collecting information such as a user's age or family background without their authorisation. Google faces a fine if it doesn't comply. In 2013, European privacy regulators from six countries coordinated enforcement measures over Google's failure to address complaints about its privacy policy. The probe was led by French regulators, with French, Dutch and Spanish regulators all fining, or threatening to fine, Google for breaching local privacy rules.
The first day of hearings have started in an Austrian student's lawsuit against Facebook for data violations. The allegations include aiding the NSA (US National Security Agency) in running PRISM, which mined the personal data of Facebook users. Schrems' lawyer Wolfram Proksch has hope for the case, saying "I think we can heighten data protection with this lawsuit."
Despite these positive moves, we can't rely on the current laws and regulations to keep us safe:
The holocaust was legal, slavery was legal, segregation was legal.

If you use the state as a metric for ethics you'll end up disappointed.

—Lex Looper (@lex_looper) December 10, 2014
Join us at re:publica!
The whole Ind.ie team is going to be in Berlin from the 5th-7th of May to see Aral speak at re:publica. We'd love to meet you if you're also attending or local to Berlin. Please let us know if you're around.