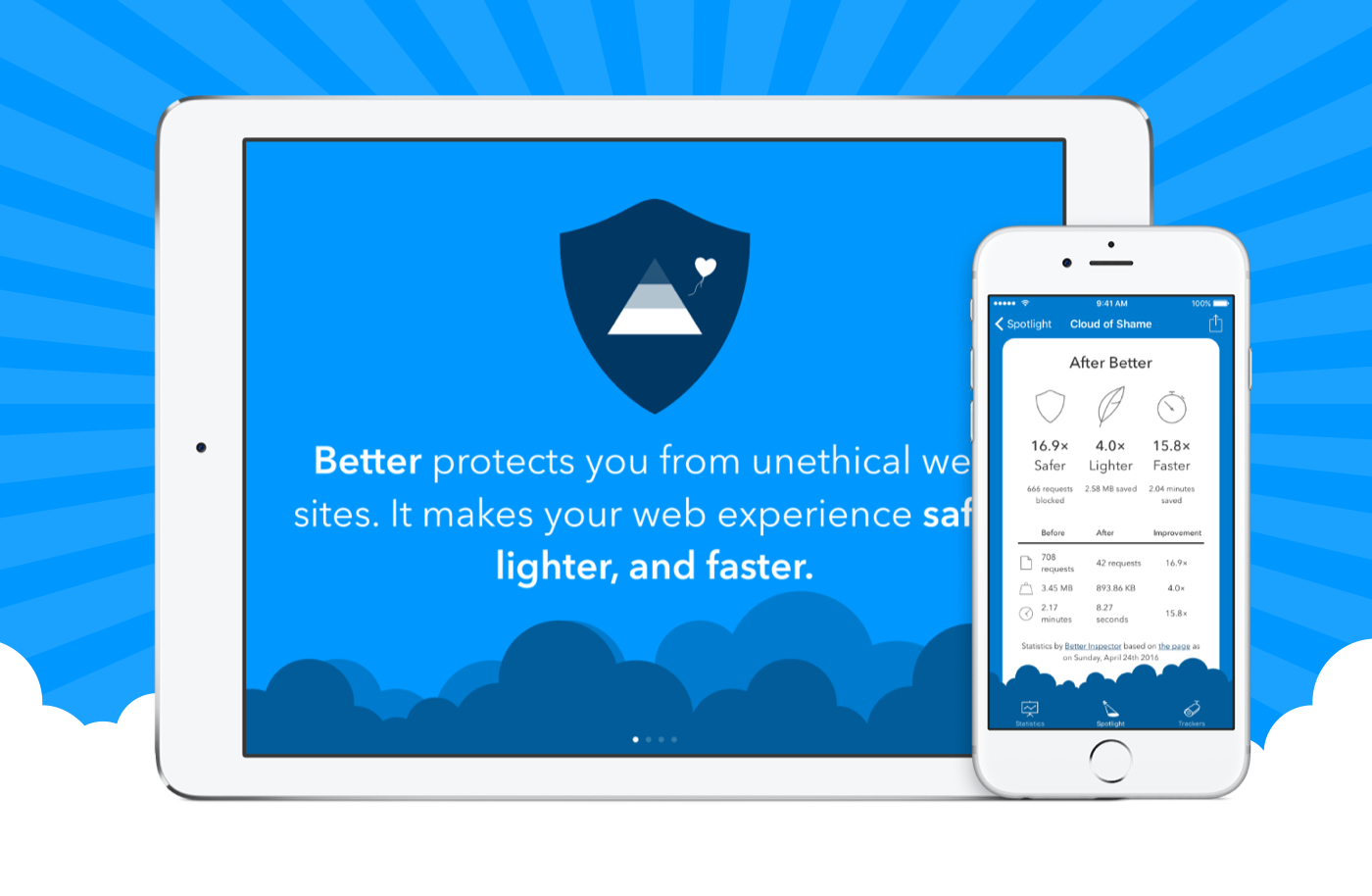 Introducing Better
3rd June, 2016 — Aral Balkan
Hi everyone,
Laura and I have spent the last eight months working on a new app that we're excited to release today. It's called Better and it's a content blocker for iPhone and iPad.
Better is not an ad blocker.
The problem isn't advertising; it's behavioural advertising.
The problem is tracking.

Better is a tracker blocker. It is a web malware blocker. Our goal is to make the web safer, lighter, and faster in line with the principles of ethical design.
Better is free as in freedom, transparent, and open.
Better isn't yet another indecipherable list of blocking rules cobbled together from various sources. It's encyclopaedia-style entries on trackers and editorial spotlights. We research and document trackers to create an educational resource and raise public awareness. That resource, via the iPhone and iPad app, becomes a tool to protect ourselves from tracking.
Does the world need yet another content blocker?
We feel that it does: a principled one.
One that works for you, not for the advertising industry.
One that cannot be bought.
One that exposes the ridiculous human costs of surveillance capitalism.
One that doesn't make toxic deals with the behavioural advertising industry.
One that fights back when our ability to defend ourselves is threatened.
One that acknowledges and supports those who are trying to do the right thing.
Let's make the web better.
Better is different, because we are different.
We do not work for the advertising industry. We work for you.
We are a two-person-and-one-husky social enterprise working for social justice in the digital age.
Our business model is simple: we sell Better on the App Store. If enough people buy it, we subsist and continue to work on Better and Heartbeat.
The launch of Better marks a new chapter in the history of Ind.ie. After two years, it is our first product available to the general public. It is also our hope for reaching sustainability.
We appreciate your support and continued friendship.
Thank you for helping us make the web better.
With love,
Aral and Laura
PS. Please tell your friends about Better – we need all the help we can get to spread the word! :)