Summer Update
26th May, 2014 — Aral Balkan.
The last few months have been hugely busy at Indie. So busy, in fact, that we just realised that we haven't updated you in a while. So here's a quick summary of what's been happening and the road ahead, starting with what's coming up.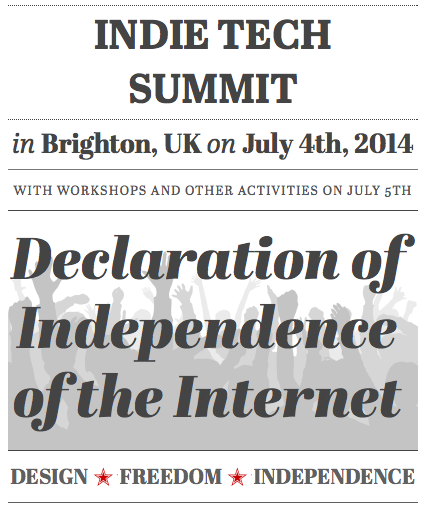 Join us on July 4th, 2014 in Brighton for the first Indie Tech Summit — the declaration of independence of the Internet.
We are purposely not releasing the names of the first day speakers / sessions until Monday, May 26th. This is a summit, not a conference. It is a meeting of the minds of a diverse group of people from the fields of design, development, law, activism, cryptography, business, social entrepreneurship, and politics.
Tackling the multi-faceted challenges of the post-Snowden world requires a diverse, multi-disciplinary effort.
I hope you will join us to mark the birth of the movement that will define our generation's struggle to empower the individual, protect civil liberties and human rights, and further the cause of democracy.
Alongside talks, fireside chats, and workshops, we will be announcing two new Indie Tech initiatives and launching the Indie Tech Manifesto.
We have funds!
Last month, I sold a family home that we have in Ankara. This means we have a budget of roughly £80,000. These are the funds we are using to complete the initial design and prepare the crowdfunding campaign for the end of this year.
Want to help?
On a related note, we're looking for help. Hit us up if you're a:
UI Designer
Not scared of code. Loves physics engines. Cares about the small stuff.
JavaScript Developer (Happily, this position has now been filled. More details on the newest member of the Indie Phone team to follow soon.)
Multi-faceted — makes stuff work via JS/Node.js/databases/ops. Cares about design and sweats the details.
Both are contract positions for the next three months, based in Brighton, UK.
Indie Phone on Sky News
This month, Indie Phone was featured on the Swipe programme on Sky News.
Trolling Eric Schmidt for fun and charity
Laura Kalbag and I had a bit of tongue-in-cheek fun by getting Samuel L. Jackson to troll Eric Schmidt on privacy for a good cause. Here's a tweet you can retweet to help us spread it.
Check it out at hasericrepliedyet.com and please share it with your friends :)
(Warning: NSFW—strong language. Then again, we did say, Samuel L. Jackson so the warning is a bit redundant.)
Talks
Following my talk at the Royal Society of Arts in March, I continued to raise awareness about Indie Technology with keynotes at The Next Web in Amsterdam and Thinking Digital in Newcastle. You can help by sharing the video for my talk Free is a Lie with your friends.
Meet Jo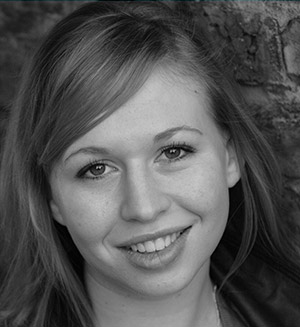 At the end of last month, Jo Porter joined the Indie Phone team as our head of operations.
The road ahead
It's going to a be a busy summer at Indie Phone. The next few months will see us completing the initial design of the phone and preparing the crowdfunding campaign.
We'll also be updating you on a more regular schedule about our progress and with news.
Here's looking forward to seeing you at the Indie Tech Summit and thank you for your continued support and friendship.